ELECTION 2012
Contact Information
Vivian Linderman
vlinderman@csudh.edu
(310)-243-2308
LIB SOUTH 2037I
Navigation
VOTING INFORMATION

POLITICAL PARTIES AND CANDIDATES

CAMPAIGN 2012 -- THE ISSUES

CAMPAIGN 2012 - THE CALIFORNIA PROPOSITIONS

CAMPAIGN 2012 - THE DEBATES / FACT CHECKING

TRACKING ELECTION 2012

THE ELECTORAL COLLEGE

YOUR ELECTED OFFICIALS

ELECTION FUN


---
WANT TO VOTE? You must be 18 years old by election day, a US citizen and resident of California along with a few other qualifications. If you meet these requirements you can register to vote online or by mail. Voter registration forms are available on campus at the Voter Registration Booth located on the Loker North Lawn starting Sept. 25 through Oct. 22, Mon-Fri from 11am to 7pm.
You can also register online or mail in your in your form. You must register by October 22, 2012 in order to vote in the upcoming presidential election.
For more in-depth information on registering and voting check out the CSUDH Voting Information page.
WHERE do I vote? HOW do I vote? WHAT am I voting for? In Los Angeles County you can find your voting location and get a sample ballot at the Register/Recorder/County Clerk's office. The site also has additional election information including access to ballots in other languages, voting accessibility and election calendars. In Orange County you can find polling locations and information about what will be on your ballot from the Orange County Registrar of Voters Office.
Look up your sample ballot before you go to the polls or create your own voter's guide at Vote411.org. At Vote411 you can compare the candidates' positions before printing out a sample ballot to take with you to your voting location.
And, you can even earn money this election (up to $175 for the day!) by signing up to be a pollworker.
---
DEMOCRATS? REPUBLICANS? Help! I can't figure all this party stuff out. If you are not too clear on the difference between Democrats and Republicans, take a look at this online article. This site also describes the difference between the Republican Party and the Tea Party.
DEMOCRATIC PARTY
The web site of the Democratic Party includes information about the party, its history and the people involved. Explore the issues from the Democratic perspective, read the Democrat's blog and learn about the Voting Rights Institute.
Want to get involved? The California Young Democrats represents young voters (and soon-to-be voters), ages 14-35, of the Democratic Party. The group advocates for Democratic candidates and issues.
Presidential Candidate Barack Obama
REPUBLICAN PARTY
The home of the Republican Party on the web offers information about the history of the party, the party platform, issues and candidates.
Want to get involved? Check out the Young Republicans, the official youth organization for the Republican Party.
Presidential Candidate Mitt Romney
OTHER PARTIES
The Green Party has Jill Stein running for president and Cheri Honkala as vice-president. The Libertarian Party is running former governor of New Mexico Gary Johnson for president and Jim Gray, former Orange County, CA superior court judge for vice-president. Although the Tea Party does not have a candidate in this presidential election you might want to research its stand on the issues. Some candidates choose to run as an Independent candidate, in effect creating their own party. This is how Texas businessman Ross Perot campaigned for president in the 1992 election.
For more information about other political parties that run presidential candidates visit the California Secretary of State's page on the Political Parties. The site offers basic descriptions of each party with links to their web sites.
---
There are lots of issues this campaign season - from Medicare to Immigration to the National Debt and Tax Reform, just to name a few. Use the links below to educate yourself on the issues before you go to the polls.
---
In 1911, California adopted the initiative process to allow California residents to become involved with the passage of laws and constitutional amendments. The process allows California voters to vote for passage of proposed laws or amendments that have been initiated by the citizenry rather than the Governor or State legislature. To read more about the process and requirements for placing an intitiative on the ballot, take a look at the California Secretary of State's Statewide Initiative Guide.
For the November 2012 election, there are eleven initiatives on the ballot. They range from requiring the labeling of genetically engineered food (Prop. 37) to repealing the death penalty (Prop. 34) to temporarily increasing taxes to assist with funding education (Prop. 30). It's a good idea to acquaint yourself with the ballot initiatives before going to the polls. The Secretary of State provides a basic description of each initiative and includes the pro/con arguments with links to additional information.
ON THE BALLOT
Prop. 30 Temporary Taxes to Fund Education
Prop. 31 State Budget
Prop. 32 Political Contributions by Payroll Deduction
Prop. 33 Auto Insurance
Prop. 34 Death Penalty
Prop. 35 Human Trafficking
Prop. 36 Three Strikes Law
Prop. 37 Genetically Engineered Food
Prop. 38 Tax to Fund Education and Early Childhood Programs
Prop. 39 Tax Treatment for Multi-state Businesses
Prop. 40 Redistricting-State Senate Districts

---
THE DEBATES
Each election season the candidates debate each other on policies and issues. These debates give the public the opportunity to hear directly from the candidates how they stand on major issues and the ideas they have for America. It's also a time to see how candidates fare under pressure and how adept they are at communicating their ideas and thoughts. The debates are facilitated by news reporters and commentators and are shown on the major networks and public television channels. They also can be heard live on many radio stations. And, most likely, will be streamed live on a number of web sites.
The presidential debates kick off on Wednesday, Oct. 3 with two more following on Tuesday, Oct. 16 and Monday, Oct. 22. The vice-presidential candidates will debate only once on Thursday, Oct. 11. All debates start at 6:00 Pacific time.
Each debate will focus on a specific issue such as foreign or domestic policy. Check here for a complete listing of the debates and topics covered.
View and enjoy classic clips of past debates showing what candidates should not do in the debates.
FACT CHECKING SPEECHES AND DEBATES
There are a number of organizations that spend hours fact checking the statements of candidates. Here are a few good ones to check in on before and after the debates:
The Annenberg Public Policy Center
Politifact by the Tampa Bay Times is known for its Truth-O-Meter which rates claims made by politicians and pundits. The site also hosts a Flip-O-Meter which shows how consistent individual politicians are in their statements and a number of "promise meters" reviewing how well politicians keep their campaign promises.
The Washington Post provides the "truth behind the rhetoric."
---
RED STATES / BLUE STATES
As you track the election results, you will often find the media discussing results within the parameters of Red States / Blue States shown on a map depicting how each state is voting. Here are some interesting sites describing this use of political maps in previous elections:
Origin of Red State Blue State - Baruch College, Newman Library
Maps of the 2008 Presidential Election - Mark Newman, University of Michigan
TRACK THE ELECTION
Gallup for results of recent polling in numbers and articles. Be sure to click on the US Presidential Election Center link.
Politico for news, analysis, candidates and polls
Real Clear Politics provides a list of all polls by date making it easy to see trends and follow local races.
10 Apps for Tracking the Election
The online news magazines Slate and The Onion are other great resources for keeping abreast of political news. Select the Politics tab on each web site to stay updated on election news.
And, don't forget the major news organizations, NBC.com, ABC.com, CNN.com, CBS.com, and NPR.org.
---
The presidential election is not won by popular vote, but rather by Electoral College votes. There are a total of 583 electoral college votes. It takes 270 votes to win the presidency. A nice overview of the Electoral College can be found on the National Archives web site.
Educate yourself on the history of the Electoral College on this web site put together by a hobby historian. Although he's currently updating the web site he has extensive information on past elections, pro/con arguments on retaining the Electoral College and more.
Keep abreast of the election results on the Electoral College Map or create your own map of Electoral College votes on this USA Today site.
---
CALIFORNIA LEGISLATURE
Enter your zip code to find out who represents you in the California state legislature. This site, hosted by the Legislative Counsel of California, also provides links to information on the organization of the California state legislature and how a bill becomes a law. There is also a resourceful glossary of legislative terms.
CONGRESSIONAL REPRESENTATIVES
Discover your representatives in the US Congress and House of Representatives. The site provides information on California elected officials including links to their web sites, voting record, bill sponsorship and committee duties.
---
The Republican Party is often referred to as the G.O.P. Can you use the resources listed under the Republican Party, above, to find out what G.O.P. stands for?
Enjoy the fun on the About.com web site which offers up political cartoons, jokes and quotes and more!
Indecision Forever is the Comedy Central contribution to this year's campaign.
Use our library catalog to search for books elections, campaigns and more. Here is a very brief sampling of some books that can be found on library shelves:
Cartoons and lampoons : the art of political satire by Samuel A. Tower.
Drawn to extremes : the use and abuse of editorial cartoons by Chris Lamb.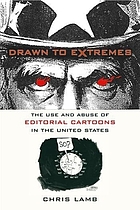 Rewiring Politics : Presidential Nominating Conventions In The Media Age

---